Böbrach
Böbrach
and The auerkieler Winkel in Nature park bavarian forest
Learn about the schnaps making tradition in the Glass Distillery, try out Kneipp water therapy, visit the Böbrach mill – one of the last water powered sawmills in Bavaria. Also the meadows and forests as far as the eye can see. Böbrach is a state registered health resort.
What about a visit to the Schnaps Museum Glass Distillery in Böbrach, with a tasting of Bärwurz and other schnaps? After all, you are on holiday! And if it worries you, then work it off with a game of tennis or skittles. Go for a long walk. Or do some relaxing fishing.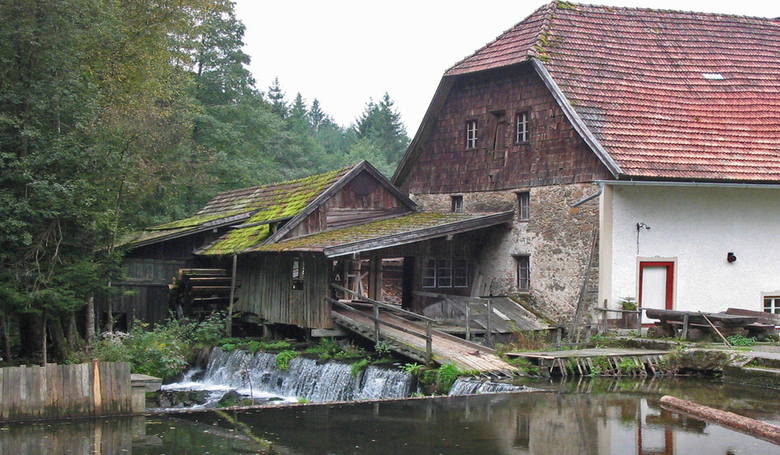 While the children romp at the playground, try curling on asphalt or Kneipp water therapy. Of course you can also go to one of the excellent Böbrach folklore evenings or enjoy Germany's largest forested area on a pony and cart ride.
On the Banks of the Rothbach and Regen
The Böbrach area is particularly popular for walking. Some love the meadows with their Spring flowers and the first green shoots in the meadows and forests. Others love to walk along the banks of the Rothbach and Regen in autumn, when the leaves are turning and the temperatures are milder. And in winter, 30 kilometres of prepared cross country skiing trails criss cross the whole area. Skating, tobogganing, alpine skiing on the Great Arber and horse drawn sledge rides are also popular.
For more information:
Tourist-Information Böbrach - Staatlich anerkannter Erholungsort
Rathausplatz 1, 94255 Böbrach
Tel.: + 49 9923 8010088, Fax: +49 9923 8010089
E-Mail: tourist-info@boebrach.de
Internet: www.boebrach.de